Foundation Program Study Class
For those who wist to deepen their knowledge and experience of Buddhism, Lamrim Center FP Class is studying the book Eight Steps to Happiness by Geshe Kelsang Gyatso.
It sometimes feels as if Dharma is there and we are here. We find it difficult to integrate Dharma into our everyday lives and so we cannot use it to solve our problems. Why is this? It is because we are not studying systematically according to a specially design program. If we just pick at Dharma randomly we will never gain a deep and stable experience, and our wisdom will never develop to its full potential.
–Venerable Geshe Keslang Gyasto
DATES: SATURDAYS 10:00am-Noon
LOCATION: Lamrim Kadampa Buddhist Center , 502 1/2 west 3rd Street, Davenport, IA
Phone (563)322-1600
Cost: $10 per class
Please contact the center for further information or if you have any questions regarding the Foundation Program in Davenport, IA.
The Foundation Program (FP)
provides a systematic presentation of particular subjects of Mahayana Buddhism to enable practitioners to deepen their knowledge and experience of Buddhism.
The program comprises the following five subjects, based on Buddha's Sutra teachings and the corresponding commentaries by Venerable Geshe Kelsang Gyatso:
●The Stages of the Path to Enlightenment, based on the commentary Joyful Path of Good Fortune
●Training the Mind, based on the commentaries Universal Compassion and Eight Steps to Happiness
●The Heart Sutra, based on the commentary Heart of Wisdom
●Guide to the Bodhisattva's Way of Life, based on the commentary Meaningful to Behold
●Types of Mind, based on the commentary Understanding the Mind
CLASS STRUCTURE
Each Foundation Program class consists of four main parts:

☼ Chanted Prayers
☼ A Guided Meditation
☼ A Teaching Session
☼ Class Discussion
The chanted prayers done at the beginning and end of each class are to help create positive energy in our mind, purify negativities and receive powerful blessings from enlightened beings. These three preliminary practices are essential if we want our meditation practice to be successful and to eventually produce profound spiritual realizations within our mind.
The meditations done each class are to help us deeply absorb the meaning of what is being studied instead of having it remain as merely intellectual knowledge. When we meditate deeply on Buddha's teachings we experience a genuine and profound change of heart. This change allows us to live our life in a move enlightened way which in turn allows us to experience true and lasting happiness.
The teachings given each class cover 1-4 pages of the book and is designed to give an in-depth look into the practices being explained. This is to help students gain a clear understanding of the intended meaning of the text as well as learning practical ways to personally apply the teachings in our every day lives.

The group discussion part of the class is a chance for students to resolve any remaining questions about the subject matter. It is also an opportunity to exchange our personal experience, views and ideas on how to integrate the teachings into our daily loves.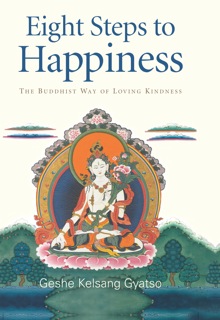 Eight Steps to Happiness
This inspiring book explains how to meditate on eight beautiful verses that comprise one of Buddhism's best-loved teaching Eight Verses of Training the Mind composed by the great Tibetan Boddhisattva Geshe Langri Tangpa in the 11th century A.D. This short poem shows how we can transform all life's difficulties into valuable insights.
FOUNDATION PROGRAM TEACHER JOE GAUTHIER
Joe Gauthier is a Buddhist teacher in the New Kadampa Tradition. He is currently a Teacher at Lamrim Kadampa Buddhist Center in Davenport, Iowa. Lamrim Center is part of a worldwide network of Buddhist Centers that are located in over 40 different countries. Joe has been studying and practicing Buddhist meditation for over 15 years under the compassionate guidance of his Spiritual Guide, Venerable Geshe Kelsang Gyatso.
Before coming to Iowa, Joe studied and taught in several locations throughout the world, including Manjushri Centre in England and at Buddhist Centers in Taiwan, Holland and Madison, Wisconsin. Joe is known and loved by his students for his intense faith in the BuddhaDharma, his extensive knowledge of the teachings and his ability to put Dharma in the context of everyday life.